Understanding sweat patterns
The perfect sweat patterns are elusive and evolving. We all like to see perfect saddle bar outlines on our horse when pulling off our saddles but sweat patterns are affected by many factors. Temperature and humidity affect evaporation of sweat.  Ventilation of your saddle influenced by pad material and thickness, and the condition of your horse's coat, all impact sweat patterns.
Temperature changes from summer to winter when your horse has longer hair vs shorter hair will alter the way sweat patterns look. They are also impacted by the amount of work your horse is doing and how long you have ridden. What you do in the last 20 minutes before you take your saddle off will influence your sweat patterns.
Sweat patterns can also be influenced by previous permanent damage to sebaceous glands caused by long rides in a bad fitting saddle. If the glands have been damaged they may never sweat again making the pattern always dry in certain areas.
If your riding discipline includes sudden slow downs for turns and stops, this will cause forward pressure on your horse's shoulders due to the momentum resulting from rapid changes of speed. The high pressure associated with high speed stops causes increased heat , affects evaporation, and thus sweat patterns.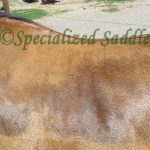 How you sit in your saddle, leaning forward, balanced and centered or slightly backward, will affect weight distribution, pressure, and evaporation  resulting in sweat patterns.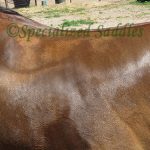 Photo A and Photo B are pictures of sweat patterns from the same horse on the same day with no fitting cushion or shim adjustment.
Photo A was taken after a 5 minute warm up.
Photo B was taken after a vigorous 10 minute workout.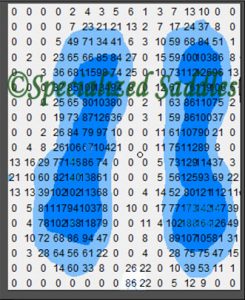 Photo C is of a pressure pad reading that shows pounds per square inch a saddle puts on a horses back.
The saddle was pressure padded on this horse immediately after the photo B was taken.
Photo C verifies the saddle fit and had no pressure over 2 psi and it had an even distribution of weight and perfect adjustment.
Note: The dry spots on Photo B after the vigorous workout are due to the prior use of a narrow non Specialized Saddle and thick wool pad causing bridging and "hot spots ". These spots do not sweat even with perfect saddle fit due to this tissue damage.
Understanding exactly what is causing the sweat patterns you see is difficult; therefore, sweat patterns are really not a reliable indicator of saddle fit.
To check your saddle fit:
Most importantly observe your horse's attitude and behavior when you are riding. Indications of bad saddle fit are tripping, pinning ears, head tossing, bucking and refusal to move forward.
Check the fit of your fitting cushions directly on your horse without your saddle pad periodically.
Ensure that you have even distribution of weight along the entire bars of the saddle for the best fit by checking that the fitting cushions do not have any gaps between them and your horse.